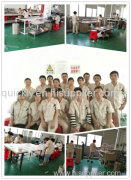 Hefei Quickly Electric Co., Ltd is a company which mainly focus on the infrared heating solution for many years and established in 2000.
Our factory located in Hefei City with experienced workers and reliable technical team. Our facility has a square of 2000 square meters, and we have 3 efficient worker teams, 80 employees in total. About our technical support, we also have three experienced engineers and two mechanical engineers. With years' experience on the equipment modifications, we help many customers with our efficient infrared heating solutions.
For some high level required customers, we also imported the high purity quartz from Norway and USA to suit for the high temperature requirements. Normally our quantity for each month is 50,000 units. But our production ability is 80,000 units each month. And this year we also enlarge the number as there is two projects ongoing.
We export to almost every country all of the world, included USA, EU, Russia, Korea, Indonessia,Kenya, UAE, Iran, Israel, Thialand, India, etc. We have some good partners in USA and EU, we also look forward to those partners who are interested in this business.